gift certificate & baby registry

Give the priceless gift of a newborn photographs.  The perfect gift to last a lifetime.
At Sweetness Photography we offer a complimentary photography gift registry for expecting parents! Now your family and friends can gift you a newborn session or contribute towards your portrait session and/or products. This would make a wonderful gift for any expectant parent!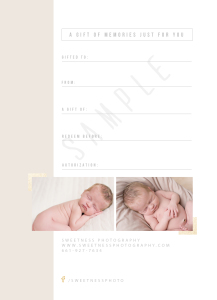 It's simple to register. Expecting parents contact us to reserve their newborn session and let us know they are interested in the gift registry. We will provide the parents with registry cards to insert into baby shower invitations. Or pass along to family and friends.
Friends and family, complete the information below to purchase gift credits which will then be applied to a session and/or prints with Sweetness Photography. All information for gift purchases will be tracked and updated as account credits. When it's time for your session, your gift credits are applied to your order.
Giving the gift of custom photography is unique and will be treasured for years to come. Register for the gift of custom photography. Contact us to get on the registry list.